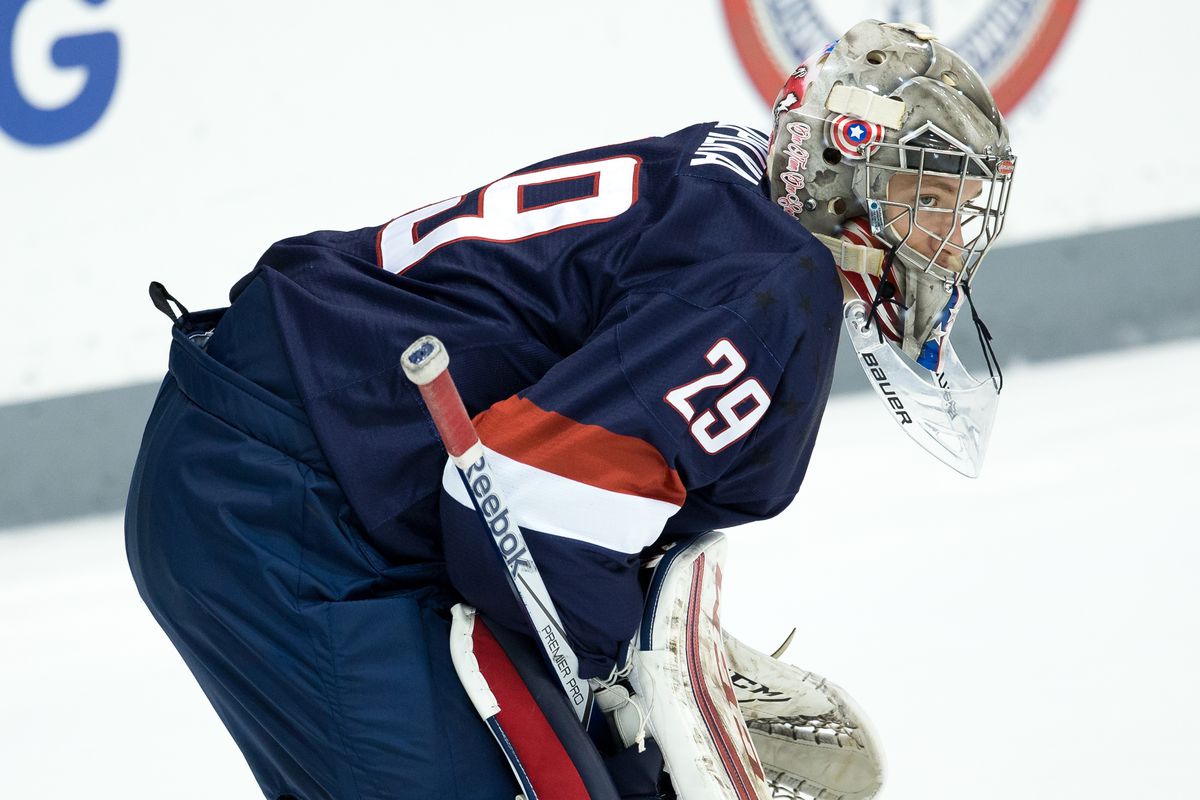 New guy between the pipes, Opilka: killin' it
Free agent young goalie signee Luke Opilka, just joined the team couple of days ago, already managed to make a great impression immediately. He was a backup goalie for the Jets for the last two years, now he just turned 22 and he was not re-signed this summer. Luke Opilka who came back to states after a short stint in Sweden, was a USA junior national team member and this time, this place could be just perfect for him.

Good luck lucky Luke. » Full story

Seabrook is finally back, ready to help his team in the next game, suspension over
Devils Hire GM
Dallas Stars defeats Carolina Hurricanes, despite being outshot for the first time this season, new goalie Vladar helps
» More breaking news in the forums...
Scoreboard
| | | | | | | |
| --- | --- | --- | --- | --- | --- | --- |
| | Toronto Maple Leafs | 1 | | Washington Capitals | 3 | Box |
| | Florida Panthers | 3 | | Buffalo Sabres | 0 | Box |
| | Carolina Hurricanes | 4 | | Columbus Blue Jackets | 3 | Box |
| | Colorado Avalanche | 2 | | Edmonton Oilers | 4 | Box |
President's Trophy Race
| | Team | GP | W | L | OTL | PTS | W% | GF | GA |
| --- | --- | --- | --- | --- | --- | --- | --- | --- | --- |
| | Montreal Canadiens | 29 | 19 | 7 | 3 | 41 | 0.707 | 98 | 71 |
| | Chicago Blackhawks | 29 | 19 | 8 | 2 | 40 | 0.69 | 103 | 87 |
| | Florida Panthers | 29 | 19 | 8 | 2 | 40 | 0.69 | 84 | 66 |
| | Ottawa Senators | 29 | 19 | 9 | 1 | 39 | 0.672 | 80 | 73 |
| | Los Angeles Kings | 28 | 18 | 8 | 2 | 38 | 0.679 | 91 | 84 |
| | Carolina Hurricanes | 31 | 17 | 11 | 3 | 37 | 0.597 | 98 | 86 |
Art Ross Trophy Race
| | Player | GP | G | A | PTS | +/- | PIM |
| --- | --- | --- | --- | --- | --- | --- | --- |
| | Vladimir Tarasenko | 29 | 17 | 19 | 36 | 10 | 12 |
| | Thomas Novak | 25 | 11 | 23 | 34 | 2 | 4 |
| | Marian Gaborik | 28 | 14 | 19 | 33 | 9 | 14 |
| | Zach Boychuk | 31 | 15 | 17 | 32 | 10 | 34 |
| | Mattias Tedenby | 29 | 15 | 16 | 31 | 9 | 18 |
| | Mikhail Grigorenko | 27 | 14 | 17 | 31 | -3 | 4 |